Covid-19 Awareness in East Valley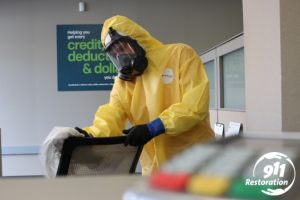 The coronavirus presents a major challenge to residents of East Valley. You can do your part to help the community make it through this pandemic. The CDC and the EPA have both issued recommendations for steps you can take to slow the spread of the coronavirus. Make sure that you:
Clean your hands properly and often

Scrub and sanitize any surfaces exposed to the coronavirus

Wipe down electronics exposed to the virus

Carefully clean clothes and fabrics

Wear gloves while cleaning areas exposed to coronavirus
Following the recommendations of the CDC and the EPA can help you maintain your peace of mind during this challenging time. The EPA even provides a list of approved disinfectants you can use when sanitizing your home or business in East Valley. In addition to these disinfectants, you can clean your property with a diluted bleach mixture of a cleaner containing 70% alcohol. Use of the right cleaner is important, as improper disinfectants may not kill the virus.
Some of us here in East Valley are dealing directly with individual infected with the coronavirus. Make sure that you wash your hands immediately after coming into contact with an infected individual. You may also need to close off areas of your property visited by an infected individual. Taking these steps can limit the spread of the virus to others.
Finally, you can take steps to get professional help sanitizing and cleaning your property by reaching out to 911 Restoration of East Valley. Our team of sanitization specialists are standing by to help you right now. We base our disinfection solutions on the guidelines of the EPA and the CDC. This means we're ready to address all of your needs during the coronavirus outbreak. Find out how we can help by contacting us now.