Record Rainfall in Phoenix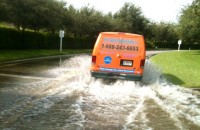 After a long seventy day stretch in the Phoenix area without rain, the dry spell ended with record breaking rainfall for a single day. This type of sudden change can easily catch you off guard and lead to water damage problems in your home.
You might think that you don't have to worry about flooding when you're in the midst of a drought. No matter how distant a memory substantial rainfall may be, it's important to use this dry time to your advantage. Make sure your home is rain-ready before it's too late. Playing chicken with Mother Nature is a dangerous game, and a little routine maintenance can go a long way in preventing a water crisis.
Attic and Roof Inspection
Having your attic and roof inspected for leaks is often the best way for you to make sure the roof will not leak when it finally does rain. I've had my whole roof replaced after a major rainstorm, but that did not stop the roof from leaking while it was raining. Any small leaks that are found when your roof is inspected can be repaired. Singles can be hammered back into place and tiny leaks can be plugged so that they don't open up during a storm.
Gutters and Downspouts
If your home doesn't have gutters or downspouts, it is high time that you had them put in. These vital pieces of equipment can keep water away from the house during a major rainstorm. Rather than leaking back into the house or sitting on the edge of the roof and causing leaks, the water will be sent to the ground and effectively moved away from your property.
In The Basement
Many times, you'll have more problems in your basement than you will on your roof. You might be in a home that has a basement that tends to flood. This happens to a lot of people, and I would recommend that you put in a sump pump as soon as possible. A sump pump can begin to take water that is flooding the basement out of the house before the flood gets out of control. While these items are not cheap, it is much cheaper than having to refinish your whole basement in the aftermath of a serious flood.
The Windows
The windows in your house might appear to be completely sealed, but they often leave little gaps that will allow small water leaks when there is also wind howling outside. These leaks could be very small, and you might not see water leaks for some time, but you will have a problem eventually if you don't keep an eye out for this problem. Make sure your windows are probably sealed and it can save you a great deal of time and headache in the future.
When you have water leaks in your house, you need to call on a professional to fix the leak and repair the damage before things get out of hand. A dry spell can be misleading, so remember that it's the perfect time for some preventative maintenance before it's too late.