Water Damage in East Valley
Weather Alert: If you are experiencing weather-related damage from the storm, call us today for emergency assistance!
911 Restoration of East Valley
There are many possible water damage threats to your property in Chandler and Gilbert. Property owners may face the damage caused by:
Floods and Storms 

Earthquakes and Fires

Frozen and Burst Pipes
Sewage Backups and Other Plumbing Disasters
You can get immediate, same-day property restoration services if your home or business suffers damage. The technicians at 911 Restoration of East Valley are licensed, bonded, and insured to take care of water damage, fire damage, mold removal, and more.
You can contact 911 Restoration of East Valley at any time of day. We are open year-round and we don't take days off. Our technicians can reach properties throughout Chandler and Gilbert within 45 minutes of a call for help. Once technicians reach your property they can offer a free visual inspection for property owners only.
911 Restoration of East Valley techs are dedicated to ensuring property owners in East Valley get a Fresh Start after any property damage emergency. Contact us now to get the help you need to recover from damage caused by water, fire, sewage backups, and mold. Call us at (480) 331-9998 and allow us to offer you a free visual inspection.

At 911 Restoration of Gilbert, we offer a Fresh Start with our comprehensive selection of property damage restoration services, including but not limited to:
Whether you're a Gilbert homeowner or business owner, 911 Restoration of Gilbert is your Fresh Start! We'll communicate with you throughout the entire process, help answer questions related to insurance, and restore your property to its pre-damaged condition. One of our IICRC-certified teams is dispatched within 45 minutes of your call! Contact us today, and one of our friendly representatives will assist you in finding the nearest Gilbert location.
Water Damage Restoration
Heavy rains and storms can cause damage to homes and businesses in Gilbert and Chandler. You may also experience water damage if cold winter weather leads to frozen pipes. Appliances may leak, and, in some cases, pipes can even burst in your walls, ceilings, or floors.
911 Restoration of East Valley can provide you with the services you need to completely recover from issues caused by excess water damage. Our water damage restoration Gilbert techs are trained to handle:
Complete Water Damage Removal and Extraction

Flood Damage Repairs
Water Damage Leak
Handling flooding, frozen pipes, and storm damage right away can reduce the over-all costs of property restoration. Ensure you get excellent water damage restoration services by contacting 911 Restoration of Chandler and Gilbert today at (480) 331-9998.
Service area map
Sanitization Services & Disinfection Solutions
Never in recent memory has a problem such as a coronavirus pandemic affected everyone on such a global scale. Likewise, no business or person remains unscathed by its impact. For this reason, it's time to work together to contain this problem. We can all contribute to the solution by maintaining our personal hygiene.
Property owners are in an even better position to help by ensuring their buildings remain sanitized according to protocols. Through doing this they can keep the people who come and go as protected as possible. For this reason, 911 Restoration of East Valley is ready and willing to deliver sanitization services in addition to various disinfection solutions for both residential and commercial properties. Our technicians maintain full compliance with all current CDC and EPA protocols in an effort to deliver optimal results with our sanitization services. Through working together we can rise above this problem. You can count on our sanitization services to deliver peace of mind.
Mold Removal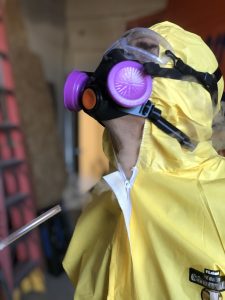 Mold can take over your property after a flood, sewage backup, or other situation that leaves you dealing with excess moisture. Infestations can damage your home or business while negatively impacting your health.
Fortunately, 911 Restoration of East Valley can take care of every portion of the mold removal process. As mold remediation Gilbert specialists, we can help you recover from mold damage quickly and effectively.
The techs at 911 Restoration of East Valley are IICRC certified to take care of mold removal in both commercial and residential properties. If you call us to report a mold infestation, we can:
Offer a Free Visual Mold Inspection for Property Owners Only

Quarantine Areas Impacted by Mold to Prevent Spores from Spreading

Use Air Scrubbers to Protect Your Health

Complete Mold Remediation

Clean and Disinfect Your Property
Reach out to the professionals at 911 Restoration of East Valley to get the help you need to return your property to better-than-new condition after a mold infestation. Call us at (480) 331-9998 and see how we can help.
Fire and Smoke Damage Restoration
Fires can cause tremendous amounts of damage in a matter of moments. Your home or business may suffer structural damage from the flames. You might end up dealing with issues caused by soot, smoke, and ash. Even the water used to put out the flames can damage your property.
Fortunately, 911 Restoration of East Valley has the expertise and equipment to help you completely recover from fire damage. We offer property owners in Chandler and Gilbert free fire damage assessments and free insurance consultations.
Once you know what it will take to complete the restoration process after a fire, our company will:
Clean Up Fire Damage Using Techniques such as Sodablasting

Take Care of Smoke, Soot, Ash, and Odor Removal

Restore and Repair Your Property
Property owners who get professional help handling fire damage Gilbert can reduce the time it takes to completely restore their property. Get ready for your Fresh Start by contacting 911 Restoration of East Valley today at (480) 331-9998 for affordable and quality fire damage cleanup.
Sewage Backup Cleanup
Did you enter your property to discover that you'd experienced a sewage backup? Sewage backups can occur if your pipes get blocked or, in some cases, after very heavy rains. Moreover, these backups can flood your home or business with raw sewage – or black water – which contains bacteria and other dangerous contaminants.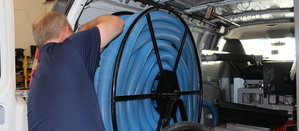 911 Restoration of East Valley can clean up any sewage backup you are dealing with. You can count on the technicians to bring the professional-grade equipment that you need to completely remove sewage from your property.
Our techs understand how important it is to thoroughly disinfect your property after a raw sewage spill. Your health and well-being is important to us, so you should not try to handle to sewage backup on your own. Cleaning up sewage safely requires the use of specialized protective gear used by professional technicians.
911 Restoration of East Valley will not consider the job done until your property is completely restored. Sewage backup cleanup involves removing water, handling repairs, and ensuring that no foul odors remain. Call sewage cleanup peoria now so the techs can help you recover from a sewage backup.
Disaster Restoration
Most people aren't entirely sure how to handle major disasters like fires, floods, earthquakes, and plumbing emergencies. Fortunately, you do not have to try to recover from serious property damage on your own.
You can reach out to the highly trained and experienced technicians at 911 Restoration of East Valley if you are facing a property disaster. The staff at 911 Restoration of East Valley offers emergency services including:
Board Up

Roof Repair

Storm Repairs

Water Extraction
In the event of a disaster, 911 Restoration of East Valley can even pack out and store your possessions to protect them from taking any damage. The staff cares about the communities around Chandler and Gilbert. It's our goal to provide total restoration services after any natural or man-made disaster.
You can get the help you need to recover from a property disaster by contacting us right now for same-day services. Let us begin repairing and restoring your property so you can get your life back on track in a better-than-new home or business. Call east valley disaster services at (480) 331-9998.