Sewage Backup & Cleanup Gilbert
When you have a sewage backup problem on your hands, you are no longer dealing with the threat of a normal water damage disaster, but instead you are facing the possibility of raw sewage entering your home and this is why you need the expertise of the sewage backup cleanup Gilbert technicians at 911 Restoration of East Valley to handle it safely.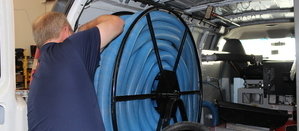 When a sewage backup occurs, then pipes can bulge and eventually burst, spewing black water in to your home. Toilet overflows contain this black water, and it usually contains viruses, bacteria and E Coli. This is why it is so important to call the sewage backup Gilbert specialists to properly clean up the mess.
We know how damaging a toilet overflow or pipe burst can be, so our sewage backup cleanup Gilbert technicians make sure to provide fast disaster restoration services at competitive prices.
Our commitment to our customers is the most important thing to 911 Restoration of East Valley, so we make sure that when we arrive on scene to restore your home from black water damage, that we make you feel like family. In order to give you the best chances of a successful fungus extraction, our sewage backup cleanup Gilbert professionals are available 24/7/365 to take your calls the moment you discover mold in your home.
Our sewage backup cleanup Gilbert team guarantee to get workers to your home as quickly as possible, arriving within 45 minutes for all situations involving black water disasters, ensuring that they conduct a free inspection of your home or business upon arrival.
Our sewage backup cleanup Gilbert staff work with IICRC certified technicians and are licensed, bonded and insured to provide you with the most state of the art techniques in the field, which includes:
Overall comprehensive damage repair

Mold testing services

Mildew deodorization

Fungus and mold decontamination

Mold infestation cleanup

Restoration of pipe bursts

Correction of burst washer hose

Flooded basement water removal

Leaky water heater repair

Restoration of faulty fire sprinklers

Toilet overflow sanitization

Cleanup of flooded and moldy crawlspaces
So, call our technicians as soon as you notice any sign of black water intruding your household and our sewage backup cleanup Gilbert agents will go the extra mile to get your home cleaned today.
Leave Sewage Cleanup To The Experts
When you experience a sewage backup in your home, the best thing you can do is call our sewage backup cleanup Gilbert specialists. With years of experience behind us, we understand that you want to protect your home and family, but the safest way to handle it is by letting our experts handle the job.
Our sewage backup cleanup Gilbert professionals keep our offices open around the clock, where we have service agents standing by to help you, day and night.
They understand how urgent a sewage backup can be, so the Gilbert staff dispatches cleanup crews to your home as quickly as possible after receiving your emergency call.
Below are some important things our sewage backup cleanup Gilbert technicians want home and business owners to remember about black water cleanup:
Don't try to clean a category three sewage situation on your own as this is potentially life threatening.
Sewage can contain a variety of parasites and diseases that are extremely harmful to people.
Hazmat suits are required for all of our technicians dealing with sewage because of how dangerous it is.
The effects of sewage backup can last for years without professional remediation.
You should only let the licensed, bonded and insured Gilbert sewage backup techs disinfect and restore your home after it has been affected by black water. Our specialists use protective HAZMAT gear to prevent cross-contamination as we restore your home back to its original condition.
After we disinfect the home we use the latest drying technology to remove every drop of moisture. When homeowners try drying floors and walls they will use heaters and fans, but all this does is circulate moisture and drive it into corners where the water can transform into mold.
When you hire us we want you to remember that our sewage backup cleanup Gilbert specialists are experts at taking care of all levels of sewage disasters, including those that include gray and black water.  Gray water is household waste water from the kitchen and bathroom, while black water is found coming from toilets that contain sewage.
Our sewage backup cleanup Gilbert pros want homeowners to know that these waters have the potential to be toxic, so it is important to never attempt a clean up on your own, especially since it is common for mold to begin growing. Our technicians will use massive sump pumps and water extraction tools to completely eliminate the health hazard from your living space, along with sanitizing and deodorizing any fungus from the living space.
So, call our sewage backup cleanup Gilbert crew today, so our techs can get to work making your home a completely free of sewage, mold and water damage in no time.
Understanding How to Handle A Sewage Backup
One of the biggest culprits for sewage damage involves flushing dangerous items down the toilet. When oil and grease is flushed down the toilet the grease clings to the sides of the pipes and causes a buildup that can eventually result in a sewage backup.
Our sewage backup cleanup Gilbert technicians also warn that flushing bulky paper products down the toilet can cause clogs that, when exposed to enough pressure, can cause raw sewage to flood your home.
Along with being exceptionally sordid, the sewage can destroy your floor and carpets if not treated by certified professionals.
When our team arrives to your door we will offer a free visual inspection and give you a free estimate. During this process we assess the amount of damage, find the source of the problem, and repair it.
While certain team members repair the problem, other technicians will perform sewer water extractions, provide water damage restoration services and test for mold.
It is not uncommon for sewage to find its way into the pores of your hardwoods or into your crawl space, so the Gilbert sewage backup specialists use equipment to remove every trace of sewage, as well as implement the latest drying technology to ensure a moisture-free home.
Once our sewage backup cleanup Gilbert pros locate the source of the black water intrusion, our crews will make sure that the sewage removed, cleaned and sanitized right away. Through rigorous training, you can rest assured that we will always provide thorough service to ensure that every trace of the substance is cleared away.
We pay attention to detail that goes beyond black water damage and sewage remediation, and extends to our approach to customer service. Our sewage backup cleanup Gilbert workers always want to make sure you are happy with the process, and by being constantly accessible we hope to calm any concerns you may have the moment you have them.
Our sewage backup cleanup Gilbert techs know it is understandable that this situation can be overwhelming dealing with an overflow, so in order to make things easier, our experts help you with everything you will need to get your home completely sanitized.
We offer affordable prices, as well as work with all major insurance companies, to get you the lowest out-of-pocket cost possible. Call 911 Restoration of East Valley, and let our sewage backup Gilbert pros rescue your home today!