Sanitization Services in East Valley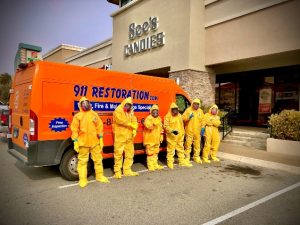 Do you have questions about your options for keeping your property clean during the coronavirus pandemic? You can get professional answers and disinfection solutions from 911 restoration of East Dallas. We offer sanitization services to commercial and residential property owners in East Valley. Our sanitization specialists are on-call around the clock, so you can contact us now to get a Fresh Start. When you need covid 19 cleaning services in East Valley, call 911 Restoration.
Call us at (480) 331-9998 and please allow us to offer you a free visual inspection.
It's very important that we all do our part to handle the coronavirus pandemic. The hospitals in East Valley could become overwhelmed if too many people become ill at once. For this reason, it's important that you maintain social distancing and practice good hygiene. It can also be very important to self-isolate and to focus on property sanitization and disinfection.
You can turn to the experts at 911 Restoration of East Valley for sanitization services. We know what it takes to clean and sanitize properties here in East Valley. Crews use the most recent recommendations from the CDC and EPA when they take care of office deep cleaning. We can set up a regular schedule to sanitize your property. You can decide if you'd like us to sanitize specific surfaces or areas of your home or business. Contact us now to learn more about your disinfection solutions in East Valley. 911 Restoration is the best service provider company in overall covid 19 cleaning companies in East Valley. Call 911 Restoration Sunrise at (480) 331-9998 and learn how we can help.
Can You Get Fast Disinfection Solutions in East Valley?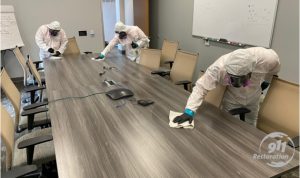 Here at 911 Restoration of East Valley, we understand that the coronavirus is a major concern to everyone in the community. Fortunately, you don't have to wait to get back your peace of mind when you reach out to us. We can reach properties around East Valley within an hour to provide you with:
Cleaning services for commonly touched surfaces

Sanitization for businesses and retail stores

Help with disinfection solutions for residences and commercial properties
Getting help quickly is important during this pandemic. You can get same-day help with your sanitization needs by reaching out to a locally owned and operated company like 911 Restoration of East Valley. We know that everyone has a part to play in the community during the coronavirus outbreak. You can do your part by staying isolated and getting help with sanitization and disinfection.
Call water damage restoration Chandler at (480) 331-9998 and learn how we can help.
We have full-scale service in the sanitation business in East Valley. Make sure you're doing everything you can to slow down the coronavirus in East Valley. Start focusing on cleaning and sanitizing your property by reaching out to 911 Restoration of East Valley today. We're standing by to race out to your home or business.