Mold Removal in Gilbert
Branch owner Chris Harper of 911 Restoration of East Dallas knows the importance of proper mold remediation. In order for the mold removal Gilbert team to efficiently dispel of both spores and fungus, they need to be able to check the home thoroughly.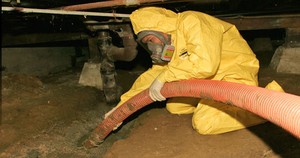 This means looking inside of the walls, checking vents and going into the deepest, darkest corners of your home, since many times you can't physically see where the mold is coming from.
Our mold remediation specialist in Gilbert works with IICRC certified technicians and are backed by years of experience in the home restoration field, making them one of the most capable companies in the community.
In order to best assist you, our mold removal Gilbert crew are open around the clock, so it is easy for you to reach out to our unit literally any time. The 911 Restoration of East Valley branch understands the urgency that comes with the discovery of mold, so they are available 24/7/365, making them available the moment you realize that you are living with mold. We provide service for mold damage restoration in Gilbert
Not only are we always open, but we vow to be at your property within 45 minutes of your call, that way you will immediately have someone on the scene to begin alleviating the situation. Our specialists want you to know that you can call us any time you find yourself dealing with water issues, even if it is the middle of the night on a weekend, and our mold removal Gilbert pros will be at your door as fast as possible.
You can rely on our mold removal Gilbert operation to offer same day services and begin working as soon as our water damage Chandler workers arrive on the scene. Our techs are trained to remediate all types of water-related emergencies using comprehensive techniques that include:
Water extraction in flooded basement
Repair of ruptured washer hose
Sanitization after toilet overflow
Mold infestation clean up
Comprehensive mold and water damage repair
Restoration of pipe bursts
Our experts knows exactly how to get the water damage restoration process started, so call our mold removal Gilbert professionals today and we will conduct a free home inspection as soon as we arrive.
Mold Is An Un-Welcomed Houseguest
No one wants mold living in their home. It looks awful, it smells bad, it can damage your personal items, it can impact the structure of the home itself, and, most importantly, it can negatively affect your health. Long period of mold exposure can cause asthma, allergy symptoms, respiratory problems and lung disease.
The licensed, bonded and insured mold removal Gilbert experts are trained in exposing even the most hidden molds, ensuring that they leave your home free from any potentially damaging fungus.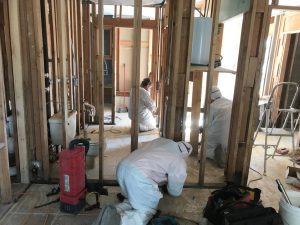 We want to be absolutely sure that we have found and disposed of any mold growths and spores that we come into contact with.
One customer called the mold removal Gilbert technicians a few weeks after she had experienced a flood in her guest bathroom. She had not had the water professionally cleaned up, and had begun noticing mold round the floor boards of the room.
The mold removal Gilbert agents were able to successfully identify the mold and immediately get to work rectifying the situation. Armed with the latest, most high-tech gear, the mold removal crew dried, cleaned and cleared out the remaining water damage and mold infestation. Some important things to remember about mold:
Mold spores can take hold in any location with enough water to germinate them.
Even clean surfaces with enough water will grow mold if a spore lands on it.
If you find a mold colony make sure not to disturb it or you may spread the contamination.
Clean all surfaces with bleach to ensure that they don't grow mold in your absence.
It is important to our mold removal Gilbert agents that we provide you with same day services when it comes to dealing with water disasters. This is because the longer water sits on the property, the greater the chances are of mold starting to grow.
We know that some of the hardest areas in the home to get moisture removed from is in the crawlspace and the attic. Our mold removal Gilbert crew understands that this is mostly due to the fact that homeowners rarely check these areas of the home, making it possible for damage to go unmitigated for a substantial amount of time and cause mold growth.
This can be exceptionally destructive if you are dealing with a broken sewer line and black water has invaded the crawlspace. Our mold removal Gilbert unit is expertly trained to decontaminate the home after a fungal infestation. So, call our operation the moment you begin to notice any signs that water may be causing trouble in any part of the home, and we will get your home completely sanitized.
We Won't Let Mold Wipe You Out
911 Restoration does the best they can to keep mold removal costs low. We do this by working with every major insurance company on top of offering already affordable prices.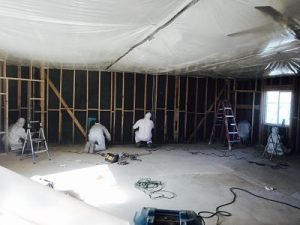 The water damage Gilbert service members know how confusing the insurance process can be, so they will help you understand the paperwork and file a claim if you need them to.
The mold removal Gilbert pros want to help protect your health and keep you safe from mold-related illnesses. We offer free visual home inspections so no customer ever feels like they can't afford to get their property checked for mold.
Our team wants to make the home restoration process as easy as possible, so our mold removal Gilbert staff makes sure to handle all part of the remediation for you, including the financial aspect. We will work with all insurance companies, because our mold removal Gilbert agents never want to make you pay more out-of-pocket expenses than you have to.
We have many years working with insurance providers, so our mold removal Gilbert pros know exactly how to file your claim to get you the best coverage. If for some reason you don't get the coverage you need, our crew always offers affordable prices on all of our water disaster services. We provide a full-scale mold removal service in Gilbert.
The mold removal Gilbert will give you and your family back a mold-free home, but they will also give you a fresh start when you call us today! We have full-scale service in the mold remediation business in Gilbert.
Serving the communities of Ahwatukee, Blackwater, Casa Grande, Chandler, Chandler Heights, Coolidge, Eloy, El Mirage, Flagstaff, Florence, Fountain Hills, Gilbert, Higley, Laveen ,Maricopa, Mesa, Paradise Valley, Peoria, Queen Creek, Sacaton, San Tan Valley, Scottsdale, Sun City, Sun City West, Sun Lakes, Surprise, Tempe, Youngtown and surrounding areas.