Mold Removal in Peoria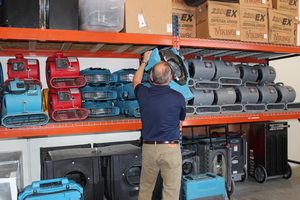 Protect your property and your health by contacting mold removal professionals as soon as you notice mold growth in Peoria. Mold can spread quickly if it is not professionally removed. This fungus can damage your walls, floors, ceilings, and possessions. It can also lead to respiratory problems and other health issues.
Fortunately, the help you need to take care of mold remediation is only a phone-call away. The mold specialists at 911 Restoration of East Valley can take your call 24/7/365. Mold cleanup crews can reach your property in Peoria within 45 minutes of an emergency call to offer you same-day services including:
A Mold Inspection and Mold Testing Performed by a 3

rd

Party Laboratory

Commercial and Residential Mold Decontamination Services

Renovation and Repair Work for Damage Done by Mold
Take charge of your future by contacting us right now for a mold inspection in Peoria. Based on the results of the inspection, crews can develop a personalized mold remediation plan for you.
What Can You Expect from Mold Removal in Peoria?
Here at 911 Restoration of East Valley, we understand that mold infestations can be stressful. Let us take the stress out of the mold remediation process and give you back your peace of mind. Mold decontamination specialists can perform a professional mold inspection to determine the best methods to handle mold cleanup for you.
Depending on your situation, mold remediation in Peoria may involve:
Isolating the Mold so It Can No Longer Spread

Using Air Filters to Draw Mold Spores from the Air

Working with Professionals Cleansers for Mold Decontamination

Focusing on Odor Removal
Let our mold cleanup crews offer you the dedicated help you need, starting with a mold inspection. Your property can be returned to better-than-new condition that can allow you to move forward with a Fresh Start after a mold infestation. Call us now for mold removal in Peoria.
Can Mold Remediation in Peoria Help with Water Damage?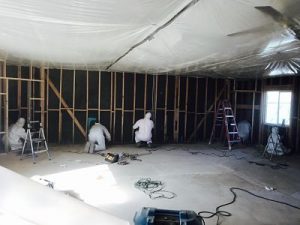 Many mold infestations in Peoria are the result of some kind of water damage. This means that mold cleanup in Peoria may require water damage restoration, or you could risk mold returning to infest your property once more.
911 Restoration of East Valley is a full-service property restoration company. Our licensed, bonded, and insured techs have the training to take care of flood cleanup, water extraction, dehumidification, and total water damage restoration. Let us take care of the issue that led to the mold infestation in your property.
You can rest easy after crews begin mold decontamination in Peoria. Let us ensure all traces of the mold infestation are removed from your home or business. Mold removal can take care of odors, discoloration, and the infestation of your possessions so you can get your life back to normal.
Servicing the cities of Ahwatukee, Blackwater, Casa Grande, Chandler, Chandler Heights, Coolidge, Eloy, El Mirage, Flagstaff, Florence, Fountain Hills, Gilbert, Higley, Laveen, Maricopa, Mesa, Paradise Valley, Peoria, Queen Creek, Sacaton, San Tan Valley, Scottsdale, Sun City, Sun City West, Sun Lakes, Surprise, Tempe, Youngtown… and surrounding areas.