Mold Removal in Sun City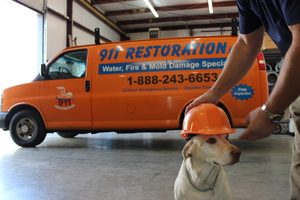 You can completely renovate your property after a mold infestation in Sun City by contacting 911 Restoration of East Valley. Our crew of mold removal professionals can:
Arrive at Your Home or Business Within 45 Minutes of an Emergency Call

Complete a Free Visual Mold Inspection for Property Owners Only

Develop a Personalized Mold Remediation Plan for You

Take Care of Odor Removal with Mold Decontamination
Our mold cleanup specialists are licensed, bonded, and insured to take care of mold removal in Sun City. Crews are on call 24/7/365, so you can begin the property restoration process right away. Let us go over your unique needs with a mold inspection and begin working to fully renovate and restore your home or business today.
The Benefits of Mold Removal in Sun City
Mold cleanup in Sun City can benefit you in a number of ways. The IICRC certified mold remediation professionals at 911 Restoration of East Valley can:
Limit the Total Damage to Your Property by Isolating Mold Growth

Finish a Mold Inspection to Determine What Type of Mold You Are Dealing With

Use Cutting-Edge Restoration Technology to Restore Areas Impacted by Mold

Disinfect Your Property and Possessions with Mold Decontamination

Repair Any Water Damage That Led to a Mold Infestation
Mold remediation in Sun City can help protect your health, as some forms of mold are toxic. Limit your exposure to these dangerous forms of fungus by contacting mold cleanup crews right now. 911 Restoration of Gilbert has years of experience handling both commercial and residential mold infestations so property owners can get a Fresh Start in Sun City.
Focus on Every Step of Mold Remediation in Sun City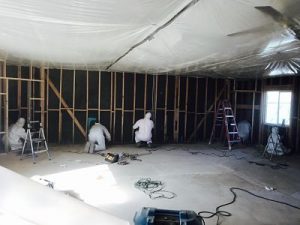 The mold cleanup techs at 911 Restoration of East Valley believe in offering your dedicated support through each step of the mold remediation process. We offer personalized care from the time techs arrive to complete a mold inspection in Sun City.
Depending upon your situation, mold removal techs may:
Pack Out and Store Your Undamaged Possessions Safely

Assess Water Damage and Begin Water Extraction and Restoration

Send a Mold Sample to a 3

rd

Party Laboratory for Testing

Clean Up All Items Infested with Mold

Use Specialized Disinfectants for Mold Decontamination
Mold decontamination in Sun City can protect both your health and your property. Get the help you need to ensure that mold remediation is completed quickly and correctly by contacting 911 Restoration of East Valley right now. We can help you get back your peace of mind after a mold infestation in your home or business.
No job is too big or too small for our crew of mold specialists. Call us to start the renovation process today. Get rid of every sign of a mold infestation with the professionals.
Servicing the cities of Ahwatukee, Blackwater, Casa Grande, Chandler, Chandler Heights, Coolidge, Eloy, El Mirage, Flagstaff, Florence, Fountain Hills, Gilbert, Higley, Laveen, Maricopa, Mesa, Paradise Valley, Peoria, Queen Creek, Sacaton, San Tan Valley, Scottsdale, Sun City, Sun City West, Sun Lakes, Surprise, Tempe, Youngtown… and surrounding areas.