Pipe Burst Gilbert
Pipe bursts can cause untold damage to your property, but with the help of our pipe burst Gilbert team at 911 Restoration of East Valley there's no cause for concern.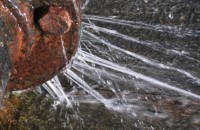 Gilbert is one of the fastest growing municipalities in the United States, and it is important to us that the expansion of this wonderful community remains unimpeded by the destructive power of pipe bursts. There are few things that can cause as much property damage as a pipe burst – just ask any homeowner who has dealt with the pumping water from a broken pipe. For over 35 years we have been in business to ensure that no one has to deal with the grueling process of repairing a pipe alone. Our highly trained water damage restoration crews are standing by to provide you with unbeatable service. Give us a call 24/7 and our pipe burst Gilbert crew will bring the latest drying technology to your house within 45 minutes!
How destructive can a pipe burst be?
Our pipe burst Gilbert crew knows that a pipe burst can become so severe that it can shut down entire sections of a city, but even on a smaller scale a household burst can cause serious damage. If a sewage pipe is the culprit, city officials may even decide to block off sections of a community until the toxic black water is extracted. If not dealt with by a trained professional, a pipe burst can leave a home uninhabitable. Thankfully there is hope for those who contact a pipe burst repair and restoration company at the first sign of damage. We are a licensed, bonded and insured company with the expert knowledge and experience to deal with any plumbing emergency. Whether you are dealing with a toilet overflow, a washer burst, or a ruptured hose, we have the drying tools to tackle any water extraction job. Don't let your home fall victim to this problem. Give our pipe burst Gilbert team now for the best, affordable same day service you will find!
Can I afford your services?
You can afford our services because our pipe burst Gilbert crew keeps its rates as low as possible. The well-being of our customers is of the utmost importance and that is why we are currently working with all insurance companies to get you the help you need fast without hurting your wallet. We employ only the most efficient cleanup teams in the state and our money saving cleanup technology allows us to offer you outstanding and affordable service second to none. Don't wait for the problem to get worse, call us now for a free inspection and we will save you thousands of dollars in the long run and get some prevention tips as well!
Is it possible to prevent water damage?
There are some things that you can do to prevent water damage according to our pipe burst Gilbert professionals . Keep an eye on your pipes and be sure to replace worn or rusty pieces as needed. Investing a little in prevention can go a long way when it comes to plumbing leaks. Our water damage restoration specialists are standing by day and night in case of a pipe burst emergency, and you can read our testimonials from satisfied customers to see our record of success. Call our pipe burst Gilbert team now to see why 911 Restoration is the most trusted name in water repair and restoration!