Water Damage and Mold Removal in Ahwatukee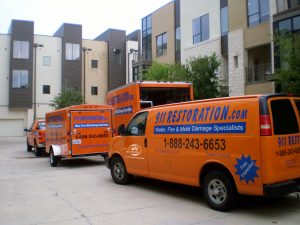 Are you dealing with property damage caused by a flood, sewage backup, or pipe burst in Ahwatukee? You can get help returning your property to perfect condition quickly by contacting the IICRC certified water damage repair crews at 911 Restoration of East Valley. Our water damage restoration and mold removal techs are on-call 24/7/365. Flood cleanup techs are fully prepared to:
Reach Your Property Within 45 Minutes of Your Call

Assess Your Needs with a Water Damage and Mold Inspection

Begin Water Extraction and Dehumidification

Deal with Mold Remediation and Odor Removal
Ahwatukee water damage repair and mold remediation techs are licensed, bonded, and insured to handle all aspects of property restoration, so your home or business can be quickly returned to better-than-new condition. The help you need with water damage restoration and mold decontamination in Ahwatukee is only a phone-call away, so contact us now.
Where Can You Get Speedy Water Damage Restoration in Ahwatukee?
Water and mold will continue to damage your property until they are removed and repairs are fully completed. This means that it's important that you begin flood cleanup in Ahwatukee as quickly as possible following a flood, storm, or pipe burst. You can get the speedy help you need with water damage restoration and mold cleanup by contacting 911 Restoration of East Valley.
Our water damage repair and mold remediation techs can take your call any time of the day or night. Mold removal techs can also hurry out to your property, whether you're dealing with commercial or residential flooding, to start:
Emergency Water Extraction

Emergency Boarding Up

Emergency Roof Repairs

Emergency Storm Repairs
Mold decontamination and water damage repair crews can complete a water damage and mold inspection when they reach your property to determine the best way to completely restore and renovate your property.
How Can Ahwatukee Mold Remediation Experts Help You?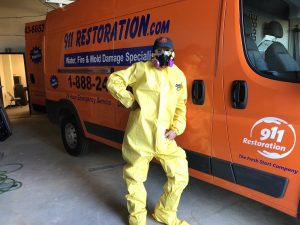 You may need help from a mold remediation expert in Ahwatukee after a flood or a pipe burst. Excess levels of moisture can encourage mold growth in your property. Mold experts can find this fungus behind walls, under floors, and in other areas. Let our flood cleanup pros check for fungal growth with a mold inspection in Ahwatukee.
If your mold inspection shows signs of mold growth, crews can begin immediate mold removal in Ahwatukee. This can involve:
Getting Rid of Mold Spores with Air Filters

Scrubbing Down Areas Exposed to Mold

Cleaning and Disinfecting Your Belongings

Handling Odor Removal with Mold Decontamination
A pipe burst, flood, or sewage backup can have serious impacts on your property. You can erase all signs of this destruction by contacting our Ahwatukee water damage restoration and mold decontamination crews in Ahwatukee. Mold removal and flood cleanup techs will work aggressively to return your property to better-than-new condition, starting within 45 minutes of your emergency call.
Servicing the cities of Ahwatukee, Apache Junction, Bapchule, Blackwater, Casa Grande, Chandler, Chandler Heights, Collidge, Eloy, El Mirage, Flagstaff, Florence, Fountain Hills, Gilbert, Higley, Maricopa, Mesa, Paradise Valley, Peoria, Queen Creek, Sacaton, San Tan Valley, Scottsdale, Sun City, Sun City West, Surprise, Sun Lakes, Superstition Springs, Tempe, Youngtown… and surrounding areas.