Water Damage and Mold Removal in Peoria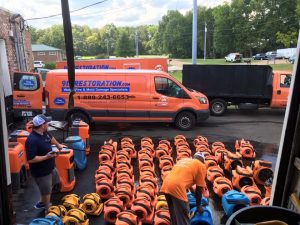 Handle flooding and pipe burst emergencies in Peoria by contacting the professionals at 911 Restoration of East Valley right now. Our water damage restoration and mold removal techs are IICRC certified and ready to begin flood cleanup. You can call us 24/7/365. Water damage repair and mold remediation techs can reach your property within 45 minutes to:
Begin Immediate Water Extraction

Check for Structural Damage to Your Property

Perform a Water Damage and Mold Inspection

Pack Out and Store Your Undamaged Possessions

Handle Mold Remediation and Odor Removal
Water damage repair techs are licensed, bonded, and insured to carry out commercial and residential mold decontamination in Peoria. You can count on us to address all of your needs following a sewage backup, flood, or pipe burst. Let us bring your property back to perfect condition, starting with a water damage and mold inspection in Peoria.
Why Begin Water Damage Restoration in Peoria Right Away?
It's important that you get help with flood cleanup and mold removal as quickly as possible after a water damage event, like a pipe burst. This is because water does not just cause damage when first entering your property. Additional damage can occur each hour that water is allowed to remain in your home or business.
The Peoria water damage restoration experts at 911 Restoration of East Valley understand the importance of moving quickly. That's why we offer same-day flood cleanup and mold remediation services. Peoria water damage repair techs can assess your needs with a water damage and mold inspection right now.
Getting fast help can reduce the overall amount of time it will take to completely restore your property. Start getting the help you need with water damage repairs and mold decontamination by contacting us as soon as you notice an issue in your property.
What Can You Do During Mold Remediation in Peoria?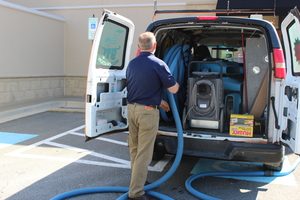 Peoria mold remediation techs can handle all aspects of property cleanup for you. The Peoria mold removal techs at 911 Restoration of East Valley can provide you with information about your situation after they complete a mold inspection in Peoria. You can then take care of your day-to-day activities while crews:
Dry Out and Dehumidify Your Property

Remove Mold Spores with Air Filters

Isolate Areas Experiencing Mold Growth

Clean and Disinfect Your Property and Possessions

Remove Odors with Mold Decontamination
Generally, you will not even have to leave your property during water damage restoration and mold decontamination. This is because mold remediation techs can isolate the areas they are working in, reducing the total disruption to your life.
The Peoria flood cleanup and mold removal techs at 911 Restoration of East Valley put you first after a water damage emergency, like a pipe burst. Contact us right now to find out how water damage restoration crews can help if you have a sewage backup, flooded basement, or leaking ceiling in Peoria.
Servicing the cities of Ahwatukee, Apache Junction, Bapchule, Blackwater, Casa Grande, Chandler, Chandler Heights, Collidge, Eloy, El Mirage, Flagstaff, Florence, Fountain Hills, Gilbert, Higley, Maricopa, Mesa, Paradise Valley, Peoria, Queen Creek, Sacaton, San Tan Valley, Scottsdale, Sun City, Sun City West, Surprise, Sun Lakes, Superstition Springs, Tempe, Youngtown… and surrounding areas.