Water Damage and Mold Removal in Scottsdale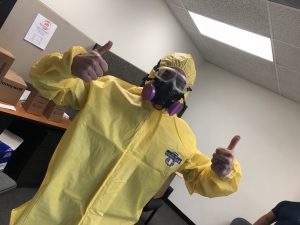 911 Restoration of East Valley can help if you experienced a flood, sewage backup, or pipe burst in Scottsdale. Our IICRC certified water damage restoration and mold removal techs can reach your property within 45 minutes of an emergency call. We stay on-call 24/7/365, so you can get fast help with:
Water Extraction

Dehumidification Services

Commercial and Residential Flood Cleanup

Repairs for Water Damage

Help with Leaking Pipes

Mold Remediation and Mold Decontamination
Scottsdale water damage repair can develop a personalized restoration plan after they complete a water damage and mold inspection. Water damage restoration and mold decontamination techs will work aggressively to return your property to better-than-new condition after any water damage event. Techs are standing by to assist you with carpet water damage, frozen pipes, pipe bursts, and natural disasters.
What Equipment is Used for Water Damage Restoration in Scottsdale?
Scottsdale water damage restoration and mold removal can require specialized equipment. The Scottsdale flood cleanup and mold remediation professionals at 911 Restoration of East Valley can work on your property with:
Pumps to Quickly Remove Large Amounts of Water

Infrared Scanners to Locate Spots of Moisture

Dehumidifiers and Fans to Dry Out Moisture

Air Filters to Remove Mold Spores

Sheeting to Isolate Areas with Mold Growth
Our water damage repair and mold decontamination techs use specialized cleaning agents to completely disinfect your property. Techs can determine exactly what equipment they'll need as they finish their water damage and mold inspection in Scottsdale.
Getting help from licensed, bonded, and insured water damage repair techs can ensure your property is fully restored the first time. The mold remediation and flood cleanup techs at 911 Restoration of East Valley have the experience and the resources to renovate and restore your property after a flood or a pipe burst.
Should You Wait to Start Mold Remediation in Scottsdale?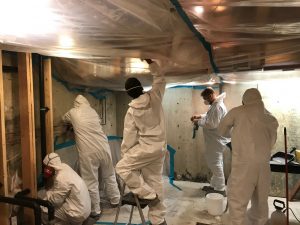 It's important that you begin mold remediation in Scottsdale as quickly as possible after spotting signs of fungal growth. In many situations, mold is discovered by water damage repair techs with a mold inspection. Mold removal should be handled right away in order to:
Reduce the Total Damage to Your Property

Protect Your Physical Well-Being

Increase the Odds that Mold Decontamination Will be Handled by Your Insurance
The water damage restoration techs at 911 Restoration of East Valley can handle mold decontamination in Scottsdale for you right away. Crews have the resources to deal with both commercial and residential mold removal in Scottsdale. We can make sure your mold infestation is wiped out by performing a final mold inspection following restoration.
Take charge of your future after a water damage emergency, like a pipe burst. Contact the professionals at 911 Restoration of East Valley to start flood cleanup and mold removal 24/7/365.
Servicing the cities of Ahwatukee, Apache Junction, Bapchule, Blackwater, Casa Grande, Chandler, Chandler Heights, Collidge, Eloy, El Mirage, Flagstaff, Florence, Fountain Hills, Gilbert, Higley, Maricopa, Mesa, Paradise Valley, Peoria, Queen Creek, Sacaton, San Tan Valley, Scottsdale, Sun City, Sun City West, Surprise, Sun Lakes, Superstition Springs, Tempe, Youngtown… and surrounding areas.