Water Damage and Mold Removal Maricopa
Water damage requires property owners to take immediate action. Your property can suffer serious damage in moments from the floods and storms that ravage our area. Plumbing issues like burst pipes and leaking appliances can cause equal amounts of destruction to your home or business. You can count on 911 Restoration of Gilbert to give you the timely help you need after any water damage emergency.
You need to address water damage quickly to mitigate the destruction to your property. 911 Restoration of Gilbert understands the value of an immediate response. That's why we offer residents throughout Maricopa County 24/7 service, every day of the year. Our team of specially trained technicians are able to reach properties around Gilbert within 45 minutes of an emergency call, giving you the help you need when you need it.
We will bring top-of-the-line water removal equipment with us. Our technicians will address your water damage needs by removing water from your property, protecting your possessions, and repairing any destruction caused by the rising water levels.
Mold Removal for Property Owners in Gilbert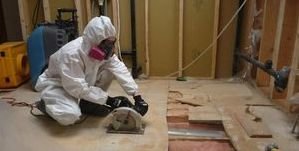 Mold growth is one of the major dangers associated with water damage. 911 Restoration of Gilbert is a mold removal company with years of experience helping property owners in Gilbert and surrounding areas. We offer free visual mold inspections for property owners only, so you don't have to worry about mold inspection costs.
Our IICRC certified technicians can inspect your property and determine the best ways to provide you with mold removal services. Mold can hide in your carpets and behind walls, where it grows unseen. We understand the best techniques for addressing mold damage and mold removal.
You can count on our team to take care of mold removal quickly and efficiently. You should not have to breathe in mold spores at your residence or business. Get professional help handling mold removal so your property can return to the condition you expect.
A Restoration Company You Can Count On
You deserve professional help from a disaster restoration company that understands your needs after any type of property disaster. Here at 911 Restoration of Gilbert, we know what it takes to effectively carry out:
       Water Damage Restoration

       Fire Damage Restoration

       Mold Removal
We can help you deal with large disasters, including floods into your basement or major burst pipes. Our team also addresses smaller examples of water damage like ceiling leaks. You can count on our professional water removal service to address any damage your property has suffered quickly and with minimal amounts of stress for you.
Our team has experience working with all insurance companies, allowing us to help you deal with claims to pay for disaster cleanup and mold removal. Get your peace of mind back after a serious water damage event by reaching out to a disaster restoration company with years of experience helping property owners throughout:
       Agua Caliente

       Casa Grande

       Chandler

       Chandler Heights

       Coolidge

       Florence

       Gila Bend

       Gilbert

       Maricopa

       Mobile

       Papago

       Queens Creek

       Sacaton

       Sun Lake

       Sundad