Water Damage in Queen Creek
Queen Creek is a lovely town for home or commercial property owners to settle down in. But building owners still need to be proactive when it comes to potential water damage troubles. Whether it's from a ceiling leak, pipe burst, flood in the basement, or natural disaster, you should never play the waiting game when it comes to water damage restoration services or mold removal. Thankfully, 911 Restoration of Gilbert offers swift and effective water restoration services with a smile. Our team is licensed, bonded, and insured and will arrive within just 45 minutes of your initial phone call. It doesn't matter if you're located across the block or across town, we are on call 24/7/365 to solve your water damage woes right away.
Suffered from a Flood? Call Our Water Damage Restoration Experts ASAP!
Your water damage restoration needs can be caused by a plethora of factors, such as heavy rain, a ceiling leak, or a pipe burst. The effects of flooding on a home or office building can include significant damage to the structural integrity of the property, as well as to your personal belongings. If left unattended to for days on end, stagnant water can become a haven for fungus, resulting in the need for mold remediation services.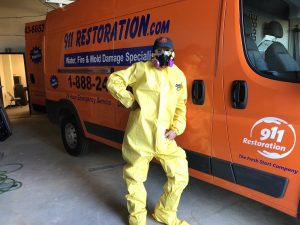 Whether from a man made error or a natural disaster, the physical effects of floodwaters on your building can be hazardous. Moving water can push against your walls and weaken the structure. It can also deposit debris against the outside of the property, adding additional physical pressure to your home and increasing the damage drastically.
An indoor flood can cause countless problems to your home or retail complex. Within just hours, your furniture, carpet, and wood can become discolored and warped. And within just 48 hours, mold can begin to flourish, leading to your property needing additional mold removal services.
The experts at 911 Restoration of Gilbert are more than equipped to deal with water damage restoration services inside of your building. We have state-of-the-art equipment and years of experience under our belts to effectively dry, dehumidify, and extract every last drop of water from your home or commercial building. Our 45-minute response time allows us to move fast, taking the critical steps in order to restore your home or business without disrupting your day-to-day life.
Our crew not only offers top notch water damage restoration and mold remediation services, but we are here to lend our support to people when they need it the most. Our mission is to offer every person we work with a "Fresh Start." This allows us to offer amazing customer service and a better future to everyone we work with. Seeing your building flooded can be stressful and scary. This is why 911 Restoration of Gilbert is here to lend our support and sympathetic services when you need it the most.
Mold Removal Services in Queen Creek
Our dedication to you doesn't just stop at the welfare of your building. It is also extended to your body and wellbeing. If left unchecked, flood water can creep into every nook and cranny of your home and become stagnant. After just two days of the initial water damage, mold can start thriving under your carpet and in your walls. The health risks of mold include:
Upper respiratory infections

Increased asthma and allergy symptoms

Headaches

Sneezing

Coughing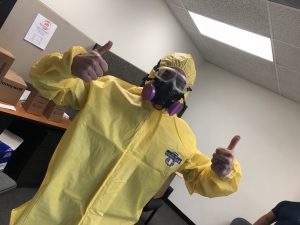 Our team of IICRC certified mold inspection and mold decontamination experts will thoroughly inspect your home or commercial property for this pesky fungus. We also perform third-party mold lab testing to ensure you are safe.
With us, you can enjoy a myriad of benefits, including:
A free visual inspection for property owners only

Total water removal, drying, and dehumidifying

Complete property restoration

A caring and committed team

45-minute response time from your first phone call

And more!
If you are a commercial property or home owner living in Queen Creek and are in need of water damage restoration or mold removal services, do not hesitate to call 911 Restoration of Gilbert today. We'll be at your door within just 45 minutes. Night or day, we are just a phone call away!
We proudly service the cities of Ahwatukee, Apachie Juntion, Bapchule, Blackwater, Casa Grande, Chandle, Chandler Heights, Collidge, Eloy, El Mirage, Flagstaff, Florence, Fountain Hills, Gilbert, Higley, Maricopa, Mesa, Paradise Valley, Peoria, Queen Creek, Sacaton, San Tan Valley, Scottsdale, Sun City, Sun City West, Sun Lakes, Surprise, Superstition Springs, Tempe, Youngtown, and the surrounding areas.