Water Damage in San Tan Valley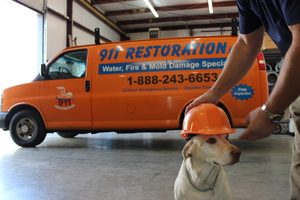 Despite the hot temperatures and sweeping views of the desert, San Tan Valley home and commercial property owners aren't strangers to water damage restoration needs. Whether the damage is done from a manmade disaster such as a pipe burst or flood in basement or from a natural storm, water damage can take a toll on your prized possessions, as well as your life. Thankfully, San Tan Valley residents can count on the swift and legendary services of 911 Restoration of Gilbert. Our licensed, bonded, and insured crews are available 24/7/365 and will arrive within just 45 minutes of your initial call to help offer efficient water damage restoration and mold removal services with a smile. We are always sympathetic to your needs and put you at the center of our focus during this dark hour, helping you and your building get back up and running and full capacity right away.
Water Damage Restoration Services with a Personal Touch
Our experienced and educated team is here to solve the water damage woes of San Tan Valley property owners. Whether you need a full flood cleanup or immediate mold remediation services, we tackle any sized job, big or small, with the same tenacity and sympathy. 911 Restoration of Gilbert understands that timing is everything when it comes to water damage restoration and mold removal, and thus we are properly equipped with the equipment and man power to handle any job that comes our way.
Within just hours, water from a flood can stain your furnishings, walls, and warp your floorboards. And within just 48 hours of the water spreading, mold can start to grow, causing a whole new set of issues. If your home or retail building is in need of water damage restoration or mold decontamination, you cannot sit on the problem. The time to act is now!
911 Restoration of Gilbert will be at your doorstep within the hour. It does not matter if you're located across the street or across the county, or if it's day or night. We'll help you get back to your life. Some benefits of working with our team include:
A free visual inspection for property owners only

Testing and evaluating your property's structure for any damage

Leak and detection repair

Complete water extraction

Third party mold testing from a lab

And so much more
Our "fresh start" approach enables us to lend a hand, as well as sympathy, when you need it the most. Our team is in the business of helping people during their darkest hour and helping them to see the silver lining during this dour situation. You're at the center of our focus during the entire water damage restoration process.
Mold Removal Services in San Tan Valley
Water damage restoration isn't the only bad thing that can occur after a pipe burst or ceiling leak. Your property may be in need of mold remediation as well.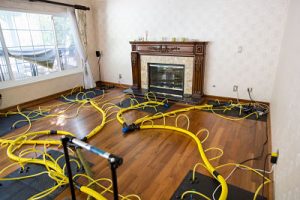 If a flood was present in your home or office building, you may have uninvited guests lurking behind your walls or under your carpeting. Mold adores moisture and flourishes in dark, damp locations. It can only 48 hours for this fungus to start growing within the corners and crevices of your home.
While mold is harmless outside in nature, it can cause a giant mess inside. Mold will eat at any surface it grows on, putting the structural integrity of your building in harm's way. It can also cause a myriad of health complications, including coughing, upper respiratory infections, and increased asthma and allergy symptoms.
If you need immediate mold decontamination services, contact 911 Restoration of Gilbert right away. We'll be at your door immediately to start the mold inspection and mold decontamination process.
If your property and belongings are underwater, it can be a difficult time in your life. That's why you need the swift and sympathetic services of 911 Restoration of Gilbert at your door right away to offer a hand. We are the water damage restoration and mold remediation experts. Contact us today!
We proudly service the cities of Ahwatukee, Apachie Juntion, Bapchule, Blackwater, Casa Grande, Chandle, Chandler Heights, Collidge, Eloy, El Mirage, Flagstaff, Florence, Fountain Hills, Gilbert, Higley, Maricopa, Mesa, Paradise Valley, Peoria, Queen Creek, Sacaton, San Tan Valley, Scottsdale, Sun City, Sun City West, Sun Lakes, Surprise, Superstition Springs, Tempe, Youngtown, and the surrounding areas.