Mold Removal in El Mirage
Mold infestations in El Mirage can cause massive amounts of damage to commercial and residential properties. Some forms of mold can even threaten your health if you are exposed to their spores. Fortunately, you can get help removing mold from your property today by contacting 911 Restoration of East Valley.
Reach out to our licensed, bonded, and insured mold remediation crews to get:
Around the Clock Service

Help at Your Property Within 45 Minutes of an Emergency Call

A Free Visual Mold Inspection for Property Owners Only

Thorough Mold Decontamination and Mold Cleanup Services
Work with our mold specialists to ensure your property is quickly returned to better-than-new condition. 911 Restoration of East Valley offers same-day mold removal in El Mirage. Contact us right now to protect your property and your health.
What's Involved in Mold Remediation in El Mirage?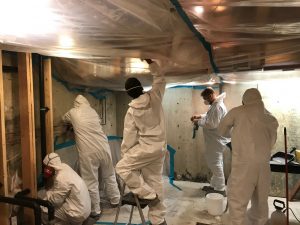 Finding mold on your property can be shocking. Many property owners aren't sure what steps to take. The pros at 911 Restoration of East Valley have the training and experience to take on mold cleanup for commercial and residential properties. Let us:
Assess the Severity of the Infestation with a Mold Inspection

Focus on Blocking Mold Growth by Isolating Infested Areas

Use Air Filters to Remove Mold Spores from the Air

Remove Odors with Mold Decontamination Services
Mold cleanup in El Mirage may involve removing some of your possessions to clean and disinfect them. The techs at 911 Restoration of East Valley will take all possible steps to fully restore your possessions so they can be returned to you in mold-free condition. We can also pack out and store your un-infested possessions, to protect them from mold during the mold removal process.
911 Restoration of East Valley puts your needs first throughout the mold remediation process. Let us offer you tireless support from the time we arrive to complete your mold inspection in El Mirage. Your property can be returned to the perfect condition you deserve with mold remediation.
How Can Mold Removal in El Mirage Help You?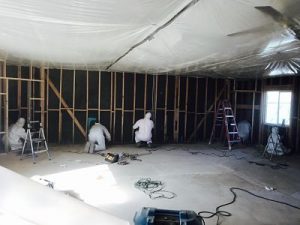 Mold often grows and spreads in areas that are dark and damp. Often, this fungus grows where it cannot be seen. It might thrive under floors or behind walls. A professional mold inspection can allow techs to track mold down wherever it hides so it can be quickly removed.
Mold removal can start right away if you call 911 Restoration of East Valley. Let us focus on mold decontamination in El Mirage. Crews can take on both large and small mold infestations. We have the training to take care of mold cleanup for both commercial and residential properties.
Beginning mold decontamination quickly can protect your health and your property. Work with 911 Restoration of East Valley  to ensure all traces of a mold infestation are taken care of with mold remediation in El Mirage.
Servicing the cities of Ahwatukee, Blackwater, Casa Grande, Chandler, Chandler Heights, Coolidge, Eloy, El Mirage, Flagstaff, Florence, Fountain Hills, Gilbert, Higley, Laveen, Maricopa, Mesa, Paradise Valley, Peoria, Queen Creek, Sacaton, San Tan Valley, Scottsdale, Sun City, Sun City West, Sun Lakes, Surprise, Tempe, Youngtown… and surrounding areas.