How Much Does Fire Damage Restoration Cost?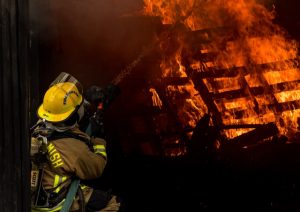 Fire damage restoration services become the first line of defenders against the inevitable destruction caused by smoke and soot damage. Property owners should consult local home restoration specialists for assistance as soon as possible.
Early intervention limits dangers and ensures that your home returns to its pre-loss state beforehand. The fire damage restoration cost varies significantly and depends on the size and structure of the damaged site.
This article outlines those factors and shares an insight into our fire damage cleanup process.
Here's what you should know:
How Much Does Fire Damage Restoration Cost? 
On average, the fire damage restoration services can cost between $500 and $80,000. The cost can go higher if the damage is severe. Complete reconstruction of the whole property can cost more, while minor cleanups are charged at approximately $10000-12000. Several variables determine the final price, and trained technicians always go through these factors before quoting a price.
We often ask a few standard questions to evaluate the situation. They are as follows:
What's the size of the fire-damaged site?
How much smoke and soot damage did the property sustain?
What type of furniture and personal possessions got burned?
Are residential owners interested in a full reconstruction or simple cleanup process?
Your answers and our onsite investigations allow us to develop an effective mitigation plan. We base our service charges around these factors, often creating individualized price plans to align with your unique circumstances. For instance, cleaning and minor repairs don't cost as much as complete reconstruction.
Additionally, home restoration specialists might have to replace non-salvageable items to ensure that you and your family aren't affected by the harmful residue left behind.
Let's take a closer look at the primary factors that affect cleanup and restoration costs:
1. Soot Removal
Fires often leave behind black and grayish carbonated particles called soot. These are byproducts of incomplete combustions that occur during the extinguishing of the fire. It can appear as dry ashes or sticky grime that sets over surfaces with which the flames come into contact.
Soot contains chemicals and acidic components that can infiltrate carpeting, drywalls, ceilings, wood, and other objects it interacts with. In turn, it can lead to irreversible damage and often pollute air quality by entering the HVAC system. When that happens, the fire damage restoration cost will include charges for sanitization and deodorization services to restore air quality.
Therefore, one must clean it up as quickly as possible to minimize damage.
2. Smoke Damage
A smoky smell will linger around the burnt site long after the fire gets extinguished. It typically damages porous materials since they absorb smoke particles more readily than other objects. Wooden cabinetry, drapes, carpeting, and upholstery are often affected by smoke damage, and the smell becomes more widespread if the problem goes untreated.
Smoke damage cleanup occurs after soot removal and is mainly part of the deodorization services. As it effectively eliminates the foul and unpleasant odor that clings onto the affected surfaces.
3. Water Damage
Firefighting activities predominantly involve water for extinguishing the flames. It unexpectedly results in severe water damage caused by spills and extensive intrusion. Common signs include water stains, damp walls, and soaked floorboards, carpets, and furniture.
High moisture buildup can facilitate mold infestations within 24 hours of the fire. Experienced home restoration specialists will ensure that water damage mitigation strategies are part of the fire damage restoration services. They might even address it before other types of fire damages are sustained to limit mold growth.
In some cases, intervention might be too late, and we will have to extend our services by using mold removal tactics to make your property habitable again. Our trustworthy technicians always notify property owners of emerging challenges to adjust fire damage restoration cost accordingly. Frequent updates promote transparency and make it easier for you to cover damage costs.
4. Repairs and Reconstruction
Lastly, fire damage remediation mostly depends on how quickly it gets extinguished. Widespread destruction requires extensive reconstruction compared to localized fires. Taking this into consideration, we create a margin for fire damage restoration cost accordingly.
It can include:
Small repairs
Water damage remediation
Soot and smoke damage mitigation
Refinishing of scorched and soot-covered materials
Replacing damaged furnishing and personal items
These services don't cost as much as complete reconstruction services. That's because rebuilding your property requires more time and advanced skills.
Our IICRC-certified team can handle both small and large scale property damage recovery plans. We even provide insurance support by assisting you in filing a fire damage restoration claim. Having licensed practitioners to testify your claims can put you at an advantage. That's because we document all types of losses, making it easier for adjusters to calculate the required amount for coverage.
The Bottom Line
In the end, experienced home restoration specialists will always conduct detailed site inspections before sharing a quote. That's because fire incidents necessitate proper evaluation. It ensures that all the factors listed above are added to the fire damage restoration cost.  That way, you can set a realistic budget for the recovery phase in the aftermath.
Companies that follow this protocol are more reliable and trustworthy than those that don't. These practices prove that they create realistic price plans and timelines to assist residential property owners. Careful assessments are equally important to identify potential risks of property loss and prevention costs. In turn, giving you a clear picture of what to expect during cleanup and restoration.
Do you want to learn more about fire damage restoration services? Contact 911 Restoration of East Valley for further details.