Fire Damage Restoration Gilbert: Phoenix House Fire
Earlier this month a house fire near 39th avenue in Phoenix broke out.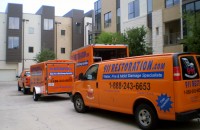 Luckily no lives were lost in the blaze, but two residents did have to go to the hospital due to smoke inhalation. Stories like these are an important reminder that we should all take the necessary precautions to avoid a house fire as much as possible. While there is always an element of fire that is outside of our control, there's still a lot that you can do to ensure the safety of you and your family, and an evacuation plan is an excellent place to start.
Have a Solid Evacuation Plan
Having an evacuation plan in place for your family is essential. Nothing saves lives and keeps people safe like knowing how to act and where to go if a fire breaks out. Understand the best ways to get out of your home safely, and determine a meeting spot that is far away enough from the house where everyone can meet. A neighbor's house is an excellent choice for a meeting spot. This way you can determine very quickly that everyone is safe and accounted for.
Keep an Eye On Your Smoke Detectors
Regular smoke detector maintenance seems like a simple and obvious thing to stay on top of, but you'd be surprised at just how many non-functioning smoke detectors fire damage restoration companies encounter as they begin restoring homes after fires. Batteries should be tested regularly and replaced as needed, and every room needs to have one of these life-saving devices. Seems easy, but overlooking this simple step is more common than you think. I suggest marking a calendar with the days you want to check on your detectors, just so that you never forget.
Professional Fire Damage Restoration
Even when you take every precaution you can a fire is still sometimes unavoidable. Once the fire department has put out the flames and deemed the property safe for reentry, it's time to call a professional fire and smoke damage restoration company to return your home to its previous state. The restoration process following a fire can be a serious task, and it involves everything from ash and soot removal to odor remediation. The smoky smell from a fire is something that will stay long after the blaze is out, but a quality fire damage company can employ advanced odor removal techniques so that your home smells fresh.
Water damage restoration is another important part of the process. The fire department generally uses a significant amount of water to put out a fire. This moisture can cause serious damage and even invite harmful mold into your home. Professional water removal is recommended to get the space completely dry again. Remember, it's important to do what you can to avoid a house fire and have a solid evacuation plan in place, but if the unthinkable happens be sure to get a professional team on your side so that you can get things back to normal as quickly as possible.