Commercial Restoration in East Valley
Your commercial property is your livelihood. When you experience any kind of disaster, it's easy to fear the worst and worry that your future is at stake. You need commercial restoration services from someone who understands the urgency of your situation, all while treating your property as if it were their own. That's where 911 Restoration of East Valley delivers. 
We offer reliable commercial restoration in Gilbert, Chandler, Tempe, and the surrounding areas 24/7/365 with a guaranteed arrival time of 45 minutes or less. Our compassionate technicians understand that you're in a race against the clock when your commercial building experiences water damage or any other type of disaster. They take quick action to repair and restore your property so that you can get back to work and continue to provide for your family. 
Our commercial restoration services include:
Water damage restoration

Fire damage restoration

Puffback cleanup

Mold removal

Sewage backup cleanup

Disaster restoration 

Sanitization and disinfection

And more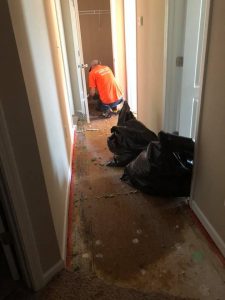 911 Restoration of East Valley is a locally owned and operated business, so we understand how important safety and appearance are to maintaining your standing within our community. We know from experience that basic water removal and smoke removal isn't enough. You deserve a property that feels brand new, smells clean, and makes your staff and customers feel safe while they enjoy their experience with you. That's why our IICRC certified staff is rigorously trained in full-service disaster restoration. We want to give you a true Fresh Start.
We're insured, licensed, bonded, and backed by the resources of a respected nationwide company. 911 Restoration prioritizes transparent business practices and honest, timely communication. Upon arrival, we offer a free visual inspect (for property owners only) to understand exactly what it will take to recover your property. From there, you sit down with an expert on staff for a free insurance consultation. We accept all types of insurance and even handle the complicated paperwork for you. 
From a water damage emergency to mold contamination, property damage is a threat to the future of your business. Fortunately, we're in this with you. Call 911 Resotartion for best-in-class commerical restoration in Gilbert, Chandler, Tempe, and the surrounding areas. 
Around-the-Clock Water Damage Restoration in East Valley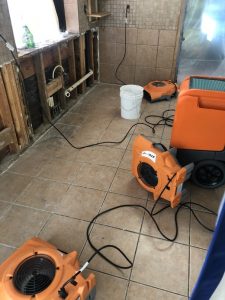 A water damage emergency is messy and needs the attention of a professional water damage team as soon as possible. 
Our water damage restoration technicians arrive on the scene in 45 minutes or less and work as quickly as possible to minimize the damage and protect any unaffected inventory. Their first order of business is to remove any unharmed items at risk of water damage. We pack out and store these belongings for you so you don't have anything to worry about. 
From there, our team will figure out if your property is still vulnerable to incoming water. If so, they address the problem with roof repair, storm repair, or boarding up. In the event of flooding or sewage backup, water removal is taken care of promptly. 
Once the water removal process is complete, our technicians dry out your property with professional blowers. They even sanitize the area to protect your staff and customers against any invading viruses or bacteria. Next, they inspect for damages within your commercial building's structure to see if there's any rotting or weakness that needs repairing. 
We don't consider the water damage restoration process to be complete without a thorough mold inspection. If an infestation is discovered, our experts take care of mold removal themselves.
Once our water damage restoration crew is done with your property, all signs of water damage will be long gone! If you're experiencing a water damage emergency on your property, call 911 Restoration for commercial restoration in East Valley today.
The Fastest Commercial Restoration in East Valley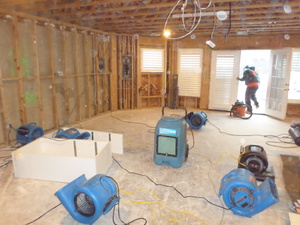 If you're working with a water restoration company that doesn't understand your needs and isn't taking quick action, you're not in good hands. 
At 911 Restoration of East Valley, we know you need fast service and a full recovery. We do everything we can to promote transparency and earn your trust from the first phone call. A professional on our team will always offer a free visual inspection (for property owners only) to examine the damage and discuss your options for recovery. 
We also provide a free insurance consultation to save you from another headache. An expert explains your benefits and expenses clearly, so that you can begin your Fresh Start with eyes wide open. They even assist with inventory, loss itemization, and claim filing.
Our team knows how precious your commercial property is. When you partner with 911 Restoration for commercial restoration services, we don't take that responsibility lightly. 
When you need water damage restoration, sewage backup cleanup, mold removal, or any other type of commercial restoration, you have our experts in your corner. Call 911 Restoration for a Fresh Start now.
Serving the communities of Ahwatukee, Apachie Junction, Bapchule, Blackwater, Casa Grande, Chandler, Chandler Heights, Collidge, Eloy, El Mirage, Flagstaff, Florence, Fountain Hills, Gilbert, Higley, Maricopa, Mesa, Paradise Valley, Peoria, Queen Creek, Sacaton. San Tan Valley, Scottsdale, Sun City, Sun City West, Surprise, Sun Lakes, Superstition Springs, Tempe, Youngtown and surrounding areas.